Strathspey Capital is delighted to announce its first acquisition, one of Edinburgh's oldest and most respected property firms, James Gibb Property Management Ltd.
The business was established in 1872 and remained in the Gibb family until its acquisition. Formerly structured in two separate divisions, the Lettings business has been acquired by Lomond Capital LLP and the Factoring division by Strathspey.
Since its acquisition, the Factoring division has changed its trading name to James Gibb residential factors.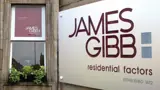 The business is now managed by Strathspey Director, Douglas Weir who has been hugely impressed with the way in which the factoring business has been managed over the years.
The Gibbs had a strong belief in delivering an honest and clear customer service package to its customers. This is one of the key attributes that attracted Strathspey to the firm The focus now is to take the business to the next level of excellence while maintaining and improving the service package that we offer our customers"
Discuss your current and future property management business plans
If you are interested in discussing your current and future business plans, please don't hesitate to get in touch. All discussions will, of course, be treated confidentially.